When our founder, Shalley Carrell, sought a solution for her dry and sun-damaged skin, she didn't need to look beyond her backyard. The water buffalo that graze at Carrell Farms have the most nutrient-dense grassfed tallow* on the planet—a perfect base for her line of nourishing skincare.
Never heard of tallow? This fat is very similar to the oils produced on our own skin. That makes it easily absorbed and balancing for even the oiliest skin. It's the perfect nourishing balm for skin and star of Buffalo Gal's all-natural skincare line.
Water buffalo eat a variety of wild grasses and other vegetation, much of it with long roots that draw up minerals. This, coupled with heavy salivation and a slow rumen means unlike beef, bison, sheep and other species of livestock, their tallow contains a broader range of skin-healing nutrients, like vitamin A in its most bioavailable form - retinol. Read more about our tallow and its nutritional data here.

*Our animals are never administered antibiotics, mRNA vaccines, hormones, steroids, nor fed grain, other GMOs, nor pesticides.
Translation? Tallow makes your skin thrive.
Buffalo Gal specializes in artisan balms, butters, and soaps for sensitive, aging, damaged and dry skin. Our home-grown tallow is your skin's multivitamin. Check out our line of hair care products, too!
To this amazing base, we add uniquely nourishing ingredients like essential oils, organic plant oils and whole flower infusions. We're all about making your skin the softest, healthiest and dewiest it's ever been.
Sourcing our Tallow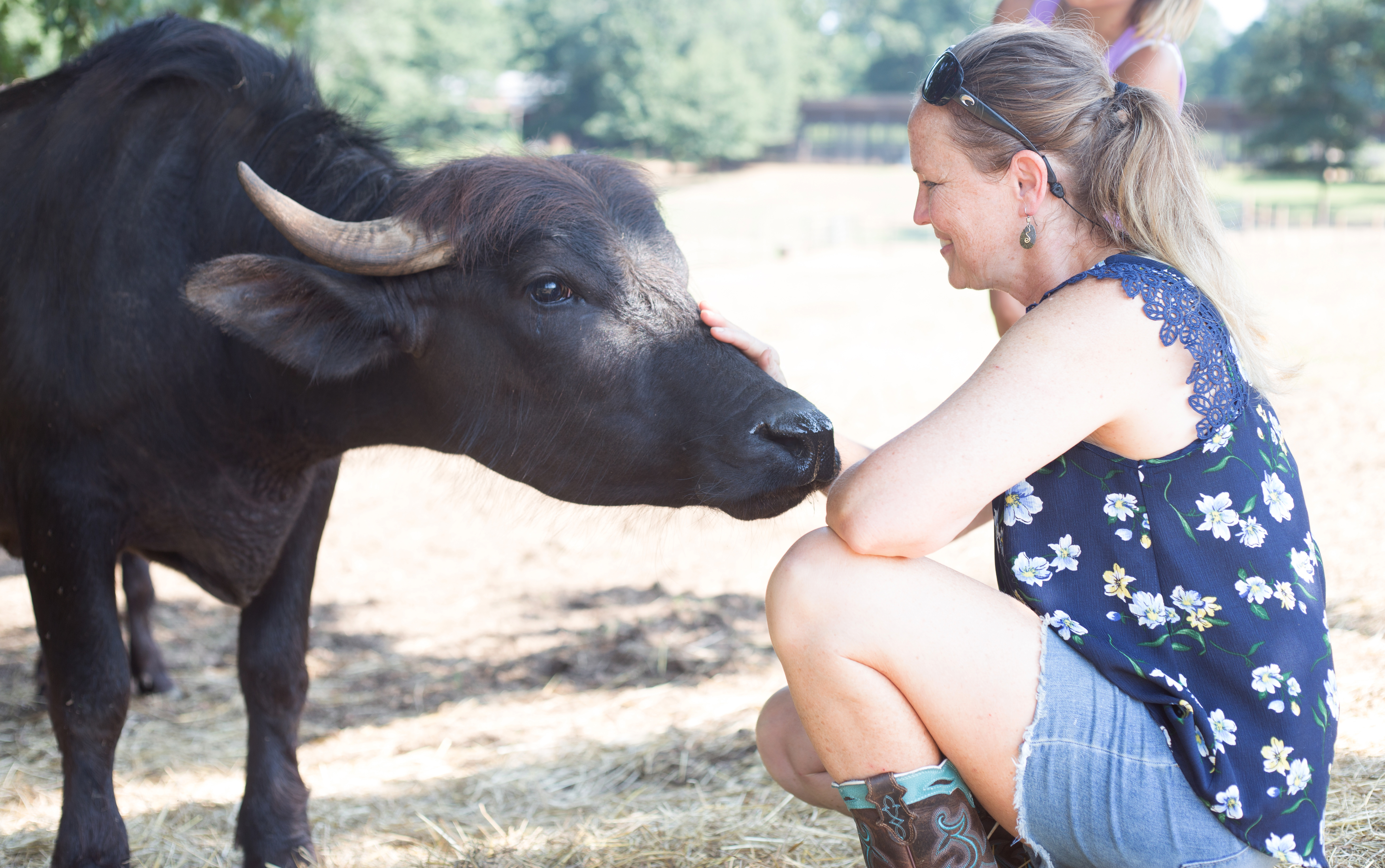 When we say our tallow is home grown, we mean it!
Our small family farm in Monroe, Georgia, is the primary source for our farm-to-face tallow. It's a magical place where we practice regenerative agriculture and graze our water buffalo, sheep and camelids on the grass they're meant to eat. It's also the reason we're so passionate about skincare—working a farm is tough on skin!
Your support means we can continue to farm in a way that helps the environment and is healthy for our animals. We're so thankful for you!
Our farming methods result is incredibly healthy, happy animals that produce amazing ingredients for our skincare. When you hang with us, you'll see snaps of products, but plenty of details about life on the farm, too!
Feel free to contact Shalley, the Buffalo Gal herself, with any questions you may have: shalley@carrellfarms.com or fill out the form on the Contact page.