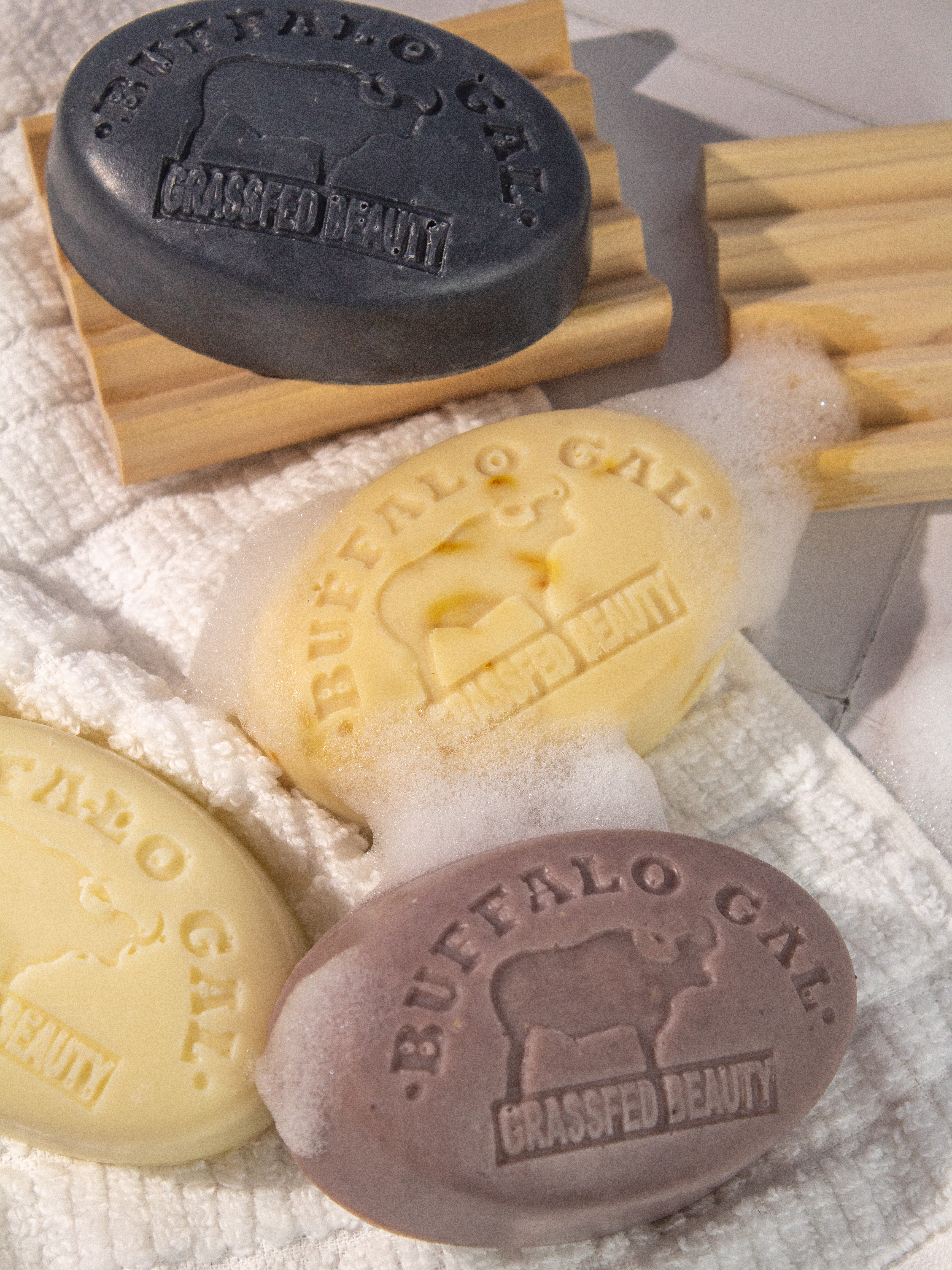 Hi there! Welcome to Buffalo Gal Grassfed Beauty, where we specialize in creating all-natural skincare products from nutrient-dense grassfed tallow. My name is Shalley Carrell, and I founded Buffalo Gal Grassfed Beauty after discovering the incredible healing benefits of this natural ingredient for sun-damaged skin. As a result, we now offer a line of artisan balms, butters, and soaps perfect for sensitive, aging, damaged, or dry skin.
Join me in this three-part series as we explore the history of soap and its relevance in modern times. We'll delve into soap ingredients, provide some valuable advice, and cover various topics, including our personal soap journey, why we choose specific ingredients, how soap has evolved, and myths about lye in soap making.
Buffalo Gal Grassfed Beauty's Soapmaking Journey
Growing up on a small farm in Georgia, I always loved natural foods and the agrarian lifestyle. After graduating college in '91, I headed west and landed in Boulder, Colorado. It was there that I discovered my passion for handcrafted soaps and natural skin care products at local fairs and festivals.
Living in the harsh Colorado environment caused my skin to become dry and dehydrated. On a whim, I bought a rose geranium-scented soap at a fair and immediately fell in love with the enchanting scent and silky, cooling sensation it gave my skin. From that moment on, I was hooked on handcrafted soaps.
In 2012, I started my own skincare business using tallow as an ingredient to help heal and satiate my element-ravaged skin. My friend Cindy, a soap maker by trade, approached me about producing tallow soaps for my brand. Given that I was already making all of my products in my compact farm kitchen, the idea of adding soap to the mix seemed daunting. I took Cindy up on her offer, and we played with different ingredient combos until we found our favorite: tallow + olive oil + castor oil combination.
The soaps were such a hit that we eventually moved into a warehouse with an office suite to expand our production. I learned to make soap and found soaping to be quite addictive! I made batch after batch, soon stockpiling a heap of soap. It happened to be good timing, as the Covid outbreak occurred and hand-washing was on the rise.
Un-molding and cutting was one of my favorite steps. However, I soon realized that sharp-edged rustic squares were too harsh for my liking.
To give our soaps a softer feel in hand, I decided to use customized molds that produce a sensual, rounded shape. This has been a game-changer for us, and our customers love it! We currently use a generous six fluid-ounce-sized dome top mold customized for Buffalo Gal.
Our journey has been incredibly rewarding, and we take great pride in providing high-quality handcrafted soaps made with natural ingredients. Our soaps cleanse, nourish, and moisturize the skin, leaving it feeling soft and healthy. Give them a try!
And that concludes Part 1 of our three-part series about Why Our Soap is Dope. We hope you enjoyed learning about Buffalo Gal Grassfed Beauty's soapmaking journey and how it inspired us to explore the world of soapmaking further. Stay tuned for Part 2, where we'll delve into the fascinating history and science behind this essential product. In the meantime, feel free to share your own soap stories or ask any questions you may have on social media or our Contact Form.